SPECIALS
In the past, the KRÖGER by Underdog Hotels was particularly popular among athletes. Boxing legends such as the Klitschko brothers or Rocky Marciano were regular guests here – especially since it is not far from the famous boxing club and event location "Universum Box Promotion".
Today, the KRÖGER is full of neat ideas: the running track markings leading to the bar, the tug of war rope in the foyer, the Gym with a punching bag, the table football figurines as towel holders and the ballet bars as a wardrobe – sports is the one big topic, work and play the other. Old coal scuttles serve as rubbish bins and the wooden stools in the small home offices are just made to let ideas flourish. To round it all off, there are plenty of board games, such as chess, backgammon and checkers.
Not to forget sleeping in our superb beds. There is a lot to discover and there are a lot of opportunities to relax here.
Hence our motto: SLEEP WORK PLAY
Kates Popcorn
POP IT
Kate makes our popcorn, hence the name Kate's Popcorn. Some of you might have heard of Kate and her popcorn, and for those who haven't, it is high time to try it! Lucky for you, we at the KRÖGER by Underdog Hotels offer this very special snack in our lobby (alongside other refreshments, such as our home baked giant cookies and many more homemade snacks from our menu).
Kate's Popcorn is made by hand. Not by us, of course, Kate manufactures it herself. Step by step and in small quantities – this is how you guarantee excellent quality. Kate's Popcorn is made with no artificial aromas and preservatives and comes in various flavours for you to enjoy, such as honey-chili, milk chocolate, dark chocolate-orange, caramel, cheddar cheese, latte macchiato, and many more.
At the KRÖGER, we always offer different varieties of Kate's popcorn for you to try. We are always curious which flavour will become your favourite. See you soon and happy tasting!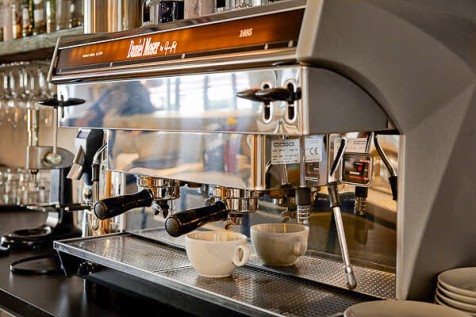 By Specialists
VIENNESE ROAST COFFEE
Vienna is famous for its great coffee, which is why we are very proud to call one of the fantastic Daniel Moser coffee lever machines our own. It simply makes the best coffee and espresso in the world.
The history of Daniel Moser dates back to 1685, when Vienna's first documented coffee house opened its gates exactly where the Daniel Moser Café is located now. Legend has it that on the 17th of January 1685, Emperor Leopold I. gave Armenian spy Johann Diodato the privilege of serving a still unknown Turkish drink called "chava" (coffee) as a reward for his spying activities. It didn't take long for the first Viennese coffee house to become a popular venue where merchants from all over the world were enjoying their coffee. This way, the new hot drink gained prominence and the famous "Viennese Coffee House Culture" was born.
Luckily, Moser is not exclusive to Vienna but also available here. So come along and enjoy!
A QUESTION OF SPORT
We are not only partners of the Elbe Triathlon in Hamburg, but also of big sporting events like the Euroeyes Cyclassics and the ITU Triathlon in Hamburg. So, get ready, train hard and book your sporty holiday with us.
If you have any questions, we are happy to be of assistance.