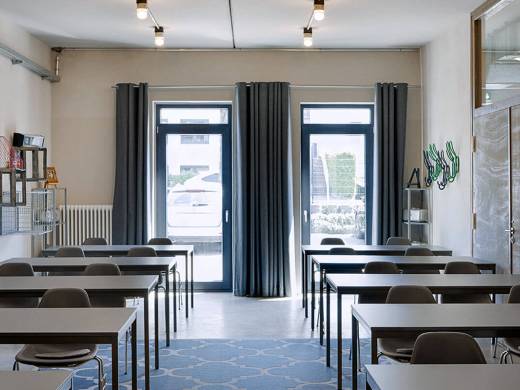 ARBEITEN / WORK
Why separate what belongs together? One-on-one meetings, a small business meeting or big events.
At the KRÖGER, you can rent a separate event room or use the entire lobby to host your exclusive company event. Our event room on the ground floor is the ideal location for seminars, workshops or conventions with up to 24 people. It is situated quietly and has direct access to the car park, thus allowing for a lot of creativity and flexibility. Upon request, the gym and the seating area in the lobby can be used for group work.
From a small group in a circle of chairs, to larger groups sitting on tables in a u-shape (18 people max.) or in a "parliamentarian" arrangement (24 people max.) – we provide your meeting, seminar or workshop with everything you need for presentations or group work, from big screens to moderation equipment.
Productive work requires good input. For your meeting, we offer a variety of homemade food and drink during breaks and for lunch. Just tell us what you are planning and we will come up with the perfect solution for you. Let work be fun and turn the fun into your success!